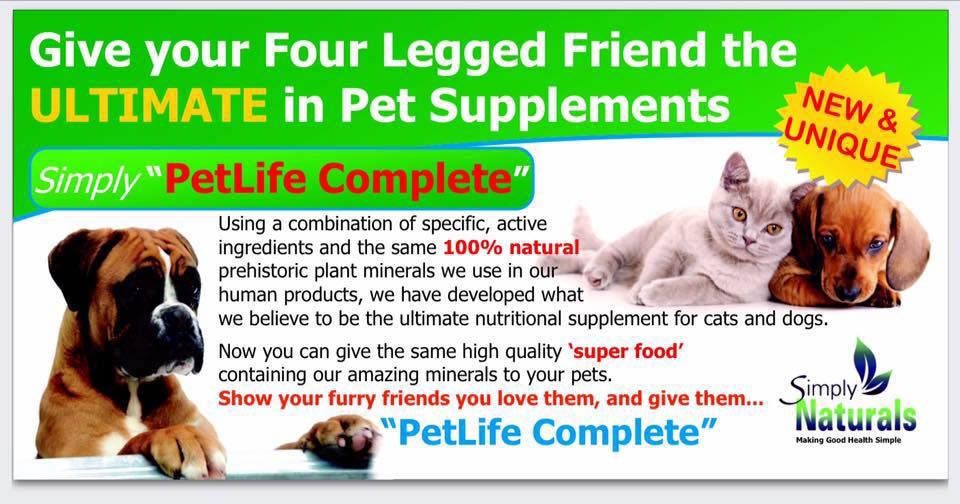 Chondroitin - Chondroitin is a source of an important component for specific cartilage cells that absorb water and provide cushioning and lubrication within joints.
Collagen - Collagen is a specific protein produced by the body and used to form the fabric and strength of all connective tissues like cartilage, tendons and ligaments.

Curcumin - Curcumin sourced from Turmeric is a natural and powerful antioxidant that mops up harmful free radicals in joints.
Glucosamine - Glucosamine is a fundamental building block of cartilage and is found in high concentrations in all types of connective tissue
.
Omega 3's - Omega 3 Fatty Acids from hemp oil is ideal because they contain the full combination of special fats that enables animals to maintain anti-inflammatory support and general health.

Vitamin C - Vitamin C, a water soluble antioxidant, is essential for collagen production, regenerating the antioxidant properties of vitamin E and is particularly effective in a water based environment like synovial fluid.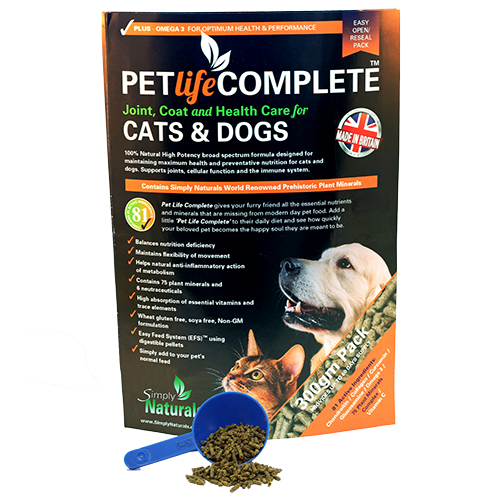 75 Pre-historic Plant Derived Minerals - Essential for optimum biological cell health and function in both humans and animals. These are highly absorbent (bio-available) prehistoric plant minerals, not cheap ineffective metallic minerals often found in many other pet food supplements.
In combination with these unique plant minerals we have included the following actives to further support healthy joints in cats and dogs.
DAILY FEEDING RECOMMENDATION
1. Simply mix with your pet's normal feed.
2. Pet Life Complete can be fed to all dogs & cats, regardless of
age, size or level of exercise.
3. For continued support, Pet Life Complete is recommended to
be fed on a daily basis.
Size of Animal Dosage (Measure Scoop included)
Cat - Quarter Scoop per Day
Small dog up to 15kgs - Half Scoop per Day
Medium/Large Dog 15kgs to 30kgs - Full level Scoop per Day
Very Large Dog Over 30kgs - Two Full level Scoops per Day
CLICK IMAGE TO PURCHASE YOURS TODAY
Meet our furry ambassadors
If your furry friend would like to be added to our wall of furry ambassadors - please send your testimonial to me using the contact tab above